6 Most Commonly Stolen Items From Homes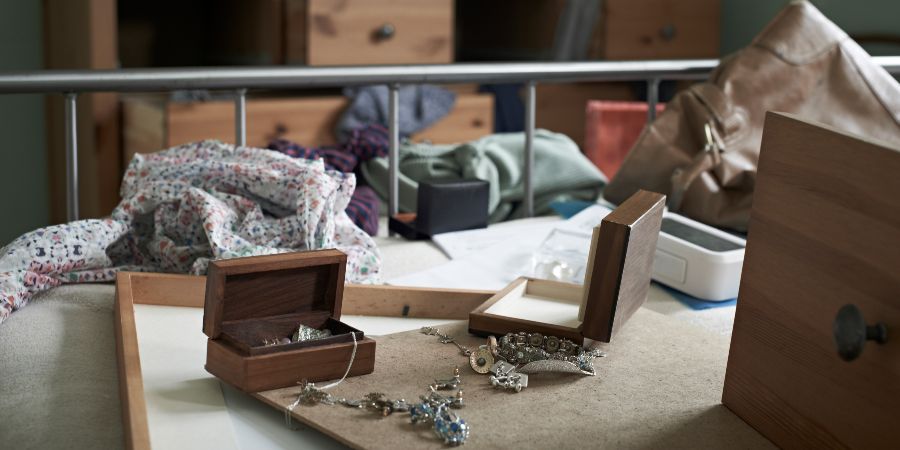 You may be thinking you have little of value for a burglar to choose your Greensboro home to invade. However, the average burglar can get into your house in under three minutes and you might be surprised at what is on their wish list. Here are the six most commonly stolen items:
Cash
First place a burglar will go is to the master bedroom looking for cash. It's untraceable, doesn't need to be sold and it is small/easy to carry and spends quickly. Obvious locations a burglar will look in: a drawer in your nightstand, dresser drawers or in a closet, or under your mattress. Many homeowners also keep their firearms in their nightstand or in their bedrooms.
Jewelry
While they are in the master bedroom they will grab the jewelry. While you may not have that on display, the jewelry box on the dresser could contain anything from the friendship bracelet your kid made to your highschool ring to family heirlooms. These items are easy to sell to stores who buy gold and silver.
Prescription Drugs
Since the majority of burglars interviewed, stated that getting money for drugs was their primary reason for home invasion, your bathroom becomes a candy store for them. If the thief does not use them, they can be sold for a very good profit. Always dispose of any old medication you are no longer using.

Electronics And Video Games:
Then it is off to the living room, for that fancy TV video game consoles and video games, any cell phones, alcohol, and decorative items that look expensive. While it is a bit harder to grab a TV and run, it is very simple for a burglar to grab all your video games and toss them in a bag along with the accessories.
Lap Tops and IPads:
It does not matter if you are a homeowner or a renter, chances are you own a laptop or IPad. It is also likely that it is on your desk, on the couch or kitchen table where it can easily be scooped up and taken in a matter of moments.
Identity:
If your laptop or Ipad is not password protected, if you do not hide your passport or other legal documents, that can lead to a thief accessing your banking information, credit cards, saved passwords. What is even scarier is that the thief may be someone you know. Over 50% of home theft is by someone the homeowners know. They have even been known to feed the dogs you think are protecting your property.
It takes an average of 8-10 minutes for a burglar to get into your home, look for all these items and more, grab and get out. Not counting the items that cannot be replaced, it will take a long time to get over that feeling of being unsafe. Protect your family and what's yours by simply installing a home security system. A professional security company can help protect your Greensboro home.